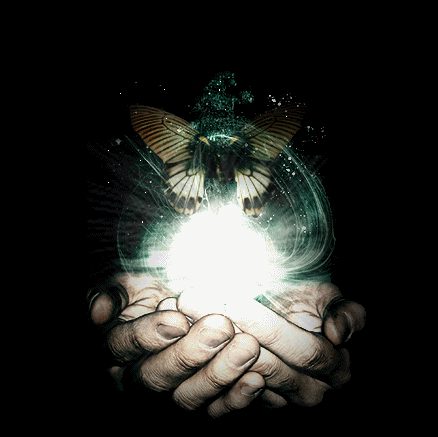 The Forest Sprite Cannot Hear the Whispering Trees
by Paul Edward Costa
You have worth. You have value. Do not forget that. Do not let them take that away from you…
The entrance has no definite beginning. I do not remember how I got here. The entranceway is a garden, a destination itself. It only dawned on me gradually that I had walked over the threshold, but by then I saw no clear way back.
This is not simply a garden, but a night garden; tiny electric sprites constantly fall from the sky and into the grass like mythic rain. They fall because of some inherent sin in their biology which the sprites have never been able to overcome. Pews sit in rows, inexplicably arranged in the wood. Faceless people stand about holding umbrellas over which the shower of dead sprites roll.
I see that the welcoming party is a strange, meaningless wedding. Everyone wears three-piece suits or dresses made of white lace, but the star of the proceedings is the dark angel officiating the ceremony. She wears a black funeral veil over her face but her bright blue eyes fire their icy gaze through its thin material. She keeps her black wings extended and unfolded; they beat the air, but she never ascends. Her appendages instead flap in reverse and keep her pressed onto the ground as if she might rise under any other normal circumstances.
I walked down the aisle towards her, carrying a gift, but a gift of what I do not know. By this point they had removed the value I saw in myself and I viewed every glance from the angel as a gift of which I was not worthy. These glances overwhelmed me. I gave myself over entirely because nothing remained in the hollow core of myself. Only the eyes of the dark angel canceled the emptiness within me.
​
I inflated and moved closer when she silently and expressionlessly looked in my direction. When she cast her eyes away I deflated and sank so low into the grass that the blades looked like the trees of a looming, ominous forest…
​
…They will praise politeness with loud, rude words. They'll convince you of the merits present in good manners. They'll ask for your soul with a "Please" and a "Thank you." You'll give it over and say "You're welcome."
​
END
Paul Edward Costa has published over fifty stories, articles, and poems in amateur periodicals such as Aphelion: The Webzine of Science Fiction and Fantasy, Gyroscope Review, Entropy Magazine, and Dryland: Los Angeles Underground Art and Writing. He's also been published in semi-pro markets such as Alt-Minds Literary Magazine and Brick Books. His novella "Dark Magic on the Edge of Town" is available on Amazon from Paperback-Press. He is a high school teacher of History/English and spoken word event organizer in the Greater Toronto Area.