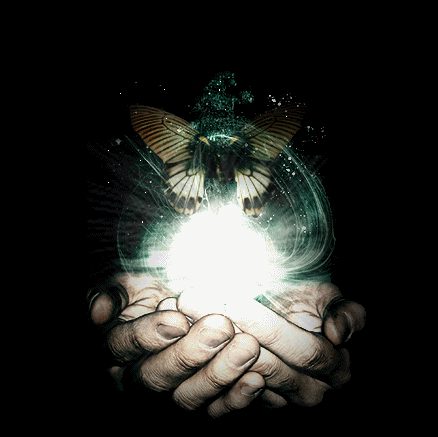 here in my heart be dragon
pumping blood: as pictures of sonograms & onesies play a game
& inhospitable uterus clipped out & stitched up to keep that deformed heart
there is a part of my heart, misshapen & cancerous as the ovaries of hide & seek
where I'm always IT, saying Congratulations! while acid burns away what's left inside—
that dragon coiled inside my chest rears up, a backdraft fantasy, where I send out photographs
of empty clothes hangers, a pitch-black sonogram of the desolate interior just beneath my ribcage,
receive back a smash of joyful Condolences! while I rock my damaged heart,
empty as the cradle my father made, hoping one day there would be
grandchildren
improv
i.
fabricate out of what is ready & already at hand—
take a handful of props & call that Inspiration—set a scene
& interject the unforeseen, then ask the Judges to score
your performance, how well has your blood entertained them?
make sure to use a 1-10 scale. no one is ever available to guide
this exercise. this is a prompt for self-starters.
ii.
name a landmark of your home—call it the Taystee-Freeze near the circle,
the five-way intersection where someone's brother or cousin died,
that's why there's always a weather-beaten white cross or
wilted bunch of flowers, a dingy white bicycle rusted-out over time,
the neon sign with the A blinking, the second E completely blown out:
a gas station on the edge of Dogpatch where they let you refill your
Icee before walking the mile back home. call it nighttime, call it noble,
call it home.
iii.
come to terms with transformation: improvise your new identity.
move into a new world in a new state & adjust yourself to fit its borders.
saw off the edges of your accent. blend into the backdrop of everything—
whatever you do, never let it be known that you're there. mask your breathing;
hide your heartbeat in the belly of this beast & architect yourself a new life
out of strangers & a bluff you hope is never called. if courage is grace under pressure,
straighten up your hems & fold your church gloves neatly.
this is going to be a fight.
​
​
Party Dress
A vintage cocktail dress, stitched together in a minty fabric—chiffon, maybe? Charmeuse? I wrecked it when I skinned my knee. That night, my blood was pink as Boone's Strawberry Hill, but after years balled up the corner of a box, the dress was crinkly as a paper fan & the stain of my fall had aged from pink to rust. When they unpacked all her boxes, I almost inherited it. But without her there to patch up my knee anymore, when her dad held it out to me, all I saw was a pale green ghost. I looked right through that filmy cloth—organza, that's what she'd said it was—& told him,
Burn it.
​
degrees Fahrenheit
reach out to me through the swelter:
it's all too easy to neglect desire till it's cooler,
to stave off the itch.
God—or however you understand the magic—
made our bodies, a simple gift to roil up the bedsheets
& navigate loneliness,
so temperature be damned—I'm reaching, too:
more than 1 way to look at a bed
& reveal our unity.
let nothing act as a barrier
in place of the sensuous.
in delighting your flesh,
I am tipped over my own edges:
the road between my thighs is a cascading creek,
a secret glimpse into expectation & wanting.
otherwise endless, with my legs locked around your hips
time belts by, heaven incarnate—
in summer air & swollen curtains,
our bedroom is a church,
oh God
the heat
oh God
Allie Marini is a cross-genre writer holding degrees from both Antioch University of Los Angeles & New College of Florida. She was a 2018 Shitty Women in Literature nominee, and has been a finalist for Best of the Net and nominated for the Pushcart Prize. Her masthead credits include Lunch Ticket, Spry Literary Journal & Mojave River Review. She has published a number of chapbooks, including Pictures from the Center of The Universe (Paper Nautilus, winner of the Vella Prize) and Southern Cryptozoology: A Field Guide to Beasts of the Southern Wild (Hyacinth Girl Press, finalist for the SFPA's Elgin Award) In addition to her work on the page, Allie was a member of Oakland's 2017 National Slam Team. A native Floridian now freezing to death in the Bay Area, Allie writes poetry, fiction, and essays. Find her online: www.alliemarini.com